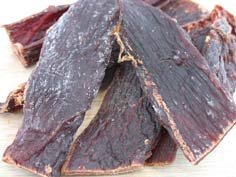 Ingredients:
3 pounds beef (or any meat type)
Ground Black Pepper
Bacon Salt (Original, Hickory or Peppered)
curing salt
Directions:
Slice your meat into strips about 1/4″ thicks. (freezing for 30 mins. prior may help with this)
Cure your meat over night.
Not a lot of ingredients are included in this recipe so you do not cover up your bacon flavor! Go ahead and pepper your meat and dash on as much of the Bacon Salt as you'd like. (The Bacon Salt comes in 3 flavors to choose from; Hickory, Peppered or Original)
If you chose the Hickory flavored Bacon Salt you might want to dehydrate your meat in the oven or dehydrator instead of a smoker so you do not mix flavors. If you chose to do so, go ahead and set the temperature to the lowest temp. on both machines, but leave the oven door propped open for ventilation. Lay out your meat on the racks, without touching. (You might want to foil line a cookie sheet if using the oven so the meat doesn't stick or make a mess) If you chose to use a smoker or grill go ahead and slap those puppies right on the racks, without touching, and dry out on the lowest temp., as well, checking ever so often. The length of time for which ever method you chose is up to you and how dry or chew you like your jerky! Add as much Bacon Salt as you like. It's great stuff! Enjoy!
Get more recipes like this for FREE!
Do you want more recipes like this? Download our Beef Jerky Recipes ebook while it's FREE! But hurry...it's only free for a limited time!
Other Recipes You Might Enjoy
Insanely Hot Beef Jerky
Texas BBQ Beef Jerky Recipe
Moroccan Twist Beef Jerky Recipe
Allegro Turkey Jerky Recipe
Peter Rabbit Jerky Recipe
Tasty Teriyaki Rabbit Jerky Recipe
Jimmie's Zippy Beef Jerky Recipe
Homestyle Beef Jerky Recipe
BBQ 3000 Beef Jerky Recipe
Best Ever Beef Jerky Recipe

RSS feed for comments on this post. TrackBack URL
We want to hear about your experiences with our Jerky Recipes! Please leave your comments on any recipe and help other jerky makers be successful. If you decide to buy Beef Jerky online, check out Jerky.com!