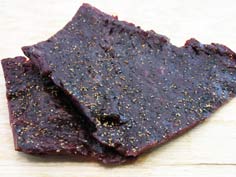 Ingredients:
5 lbs. beef (or any meat type)
5 beef bouillon cubes
1/4 c. Worcestershire sauce
1 Tb. black pepper
1 1/2 c. spring water
salt
curing salt
Direction:
Slice meat into strips of about 1/4″ or 1/8″ thick.
Rub in salt and curing salt and let cure for anywhere from an hour to an entire day, it's your preference.
After your meat has cured mix in the rest of the ingredients. Try to get as close to spring water as you can to make this jerky as close to it's authenticity as possible. Let meat marinate in the fridge for as long as you'd like, the longer the better.
If you're dehydrating your meat in the oven, foil cover a baking sheet or cake pan, lay out your strips without touching and pop them in the oven. Set your oven on the lowest temp. and let meat dehydrate anywhere from 4-12 hours, it's your preference, just check it periodically and keep the door open for ventilation. If you are using a dehydrator, set it to the lowest temp. and lay out your meat on the racks without touching and dehydrate anywhere from 8-16 hours, once again, to your preference. Enjoy!
Get more recipes like this for FREE!
Do you want more recipes like this? Download our Beef Jerky Recipes ebook while it's FREE! But hurry...it's only free for a limited time!
Other Recipes You Might Enjoy
Holiday Beef Jerky Recipe
Burger Beef Jerky Recipe
Insanely Hot Beef Jerky
Bacon Flavored Jerky Recipe
Flavorful Fish Jerky Recipe
Apple Cider Chicken Jerky Recipe
V8 Beef Jerky Recipe
Sandi's Spicy Chicken Jerky Recipe
Mrs. Butterworth's Buffalo Jerky Recipe
Moroccan Twist Beef Jerky Recipe

RSS feed for comments on this post. TrackBack URL
We want to hear about your experiences with our Jerky Recipes! Please leave your comments on any recipe and help other jerky makers be successful. If you decide to buy Beef Jerky online, check out Jerky.com!