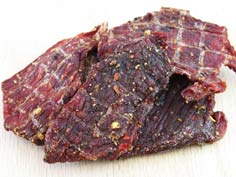 Ingredients:
2 pounds of beef (or any meat type)
1/2 teaspoon of sausage seasoning
1/2 teaspoon of Salt
1/2 teaspoon of Marjoram
1/2 teaspoon of garlic salt
1/2 teaspoon of Thyme
1/2 teaspoon of lemon pepper
1/2 teaspoon of Oregano
1/2 teaspoon of Basil
1 teaspoon of onion salt
Directions:
Trim all fat and cut meat into strips of your liking.
Season both sides of meat, well, and let marinate for your desired length of preference.
Set oven on lowest temp., line racks or pan/cookie sheet with foil, lay meat, without touching and cook to your preference. Remember – keep oven door propped open for ventilation. Enjoy!
Get more recipes like this for FREE!
Do you want more recipes like this? Download our Beef Jerky Recipes ebook while it's FREE! But hurry...it's only free for a limited time!
Other Recipes You Might Enjoy
1st Place Beef Jerky Recipe
Homestyle Beef Jerky Recipe
Bonfire Beef Jerky Recipe
Holiday Beef Jerky Recipe
Thai Beef Jerky Recipe
Turkey Burger Recipe
Insanely Hot Beef Jerky
Moroccan Twist Beef Jerky Recipe
Combo Jerky Recipe
Jimmie's Zippy Beef Jerky Recipe

RSS feed for comments on this post. TrackBack URL
We want to hear about your experiences with our Jerky Recipes! Please leave your comments on any recipe and help other jerky makers be successful. If you decide to buy Beef Jerky online, check out Jerky.com!